About the 28th Cambridge
28th Cambridge (St John's) is a successful and dynamic Scout Group based in the Junction area of Cambridge. We currently run a busy programme for 115 young people (73% male, 27% female) from 6 - 14 that involves weekly meetings in our scout centre on Flamsteed Road, and regular weekend activities: camps, hikes and other adventurous fun!
The role of Volunteering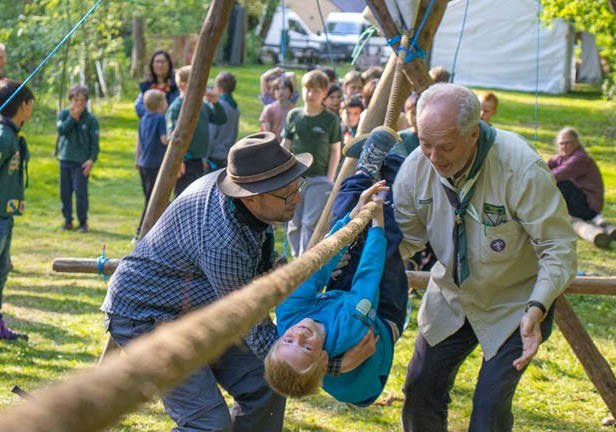 Are you interested in joining our friendly team of adult volunteers, supporting young people to make friends try new things and gain skills for life?
Our volunteers work directly with young people within the 6-14 age ranges, known as Sections, which are. Beavers (6-8), Cubs (8-10½), Scouts (10½ - 14).
Our team all work together taking on a range of tasks and responsibilities ensuring our young people have safe, adventurous, and fun activities. These tasks include:
Designing and managing challenging programmes for young people in line with Scout Association rules and guidance;
Helping to plan and lead activities.
Providing occasional help to activities: for example sharing a skill with young people, carrying out odd jobs to maintain the building, or supporting the cooking team on camp;
Making sure everyone's safe, supported, included and having fun.
Overseeing the strategic direction and assets of the Group as trustees.
Celebrating young people's achievements big and small.

As well as the day-to-day running of programme and facilities, we are seeking to grow. In particular we plan to:
Extend our membership to 4-6 year olds by launching a 'Squirrels Drey'
Extend our offer to 6-8 year olds by launching a second 'Beaver Colony'
Improve our offer for female Scouts by recruiting a female leader to each section.

28th Cambridge Scout Group commits to offering volunteers:
Basic training to be able to engage safely with young people within Scout association rules and guidance;
Opportunities to pick up new skills and try out new activities;
An appropriate level of responsibility;
Support and coaching to deal with new situations.

How do I find out if this is for me?

Contact Group Scout Leader for an informal chat.