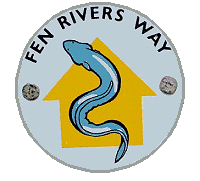 Group Sponsored Hike
The 28th On Safari to Ely
We make a sponsored hike from Cambridge to Ely to raise much needed funds for the group every other year. The whole group takes part: Scouts, Young Leaders, Cubs and even the Beavers, with different distances of the walk arranged to suit varying capabilities.
In 2016, the centenary year for Cubs which started in 1916, the distances were revised to be measured in multiples of 100 metres. The cubs doing the suggested first 6¼ miles would therefore do 100 lots of 100m, and the beavers doing the first 1¾ miles would therefore do 28 lots of 100m. Scouts and Leaders, and any long legged cubs who could demonstrate a previous ability to walk similar distances, doing the whole thing would do 264 lots of 100m.
The theme for the hike is On Safari, so participants are encouraged to dress up a little by wearing a headress or hat based on a safari animal such as a lion, giraffe or rhinoceros or just as a classic African expedition member. Full blown animal costumes are also welcome for those who really want to go to town, but we're otherwise in uniform. We keep an eye out for wild animals from our environment around us but they will probably be seeking safe refuge from our noise long before we get close enough to see them.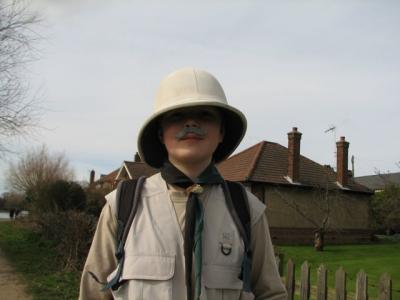 10am We start at Jesus Green Lock in Cambridge at 10am on the banks of the Cam and follow the river 16½ miles to Ely, returning by train. The Beavers accompany the group from Jesus Green across Midsummer Common past The Fort St George, under Elizabeth Way bridge and along Riverside where we can see the Cambridge Museum of Technology and the multi-coloured house for swifts, across Stourbridge Common and over the footbridge to Chesterton, about 1¾ miles or 28 lots of 100m.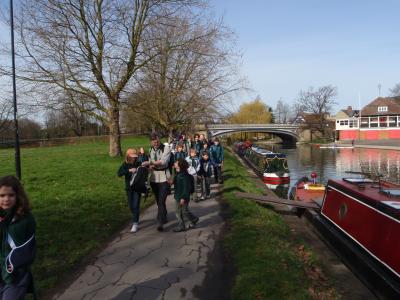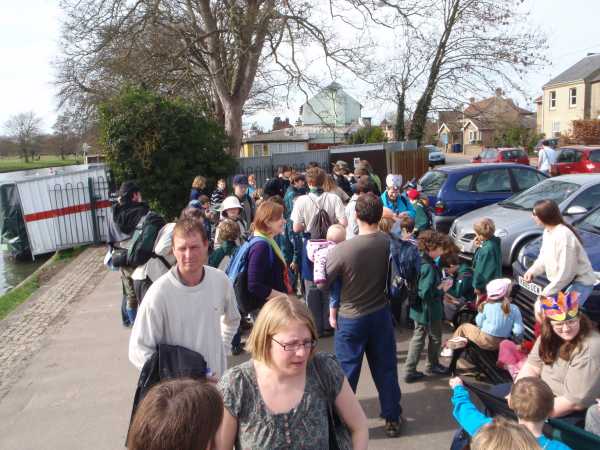 10:45 The Beavers meet their parents here on Water Street near what used to be the Penny Ferry or Pike and Eel pub (it is due to be developed into posh housing). Someone should be selling cakes here, for those who remember some money. From there the rest of us take the towpath past Baits Bite Lock and along the river.
12:30 We eat our packed lunches at The Bridge at Clayhithe (not far from Waterbeach railway station) where again we should hopefully find someone selling cakes. At The Bridge the plucky Cubs who have managed these first 6 miles (100 x 100m is 6¼ miles) can be collected by their parents or take the train home from nearby Waterbeach station. The next leg is about 4½ miles and takes us along the Fen Rivers Way, past the sluice gates where the Cam meets the Ouse and alongside fields to the aptly named Five Miles From Anywhere Inn (just after 3pm).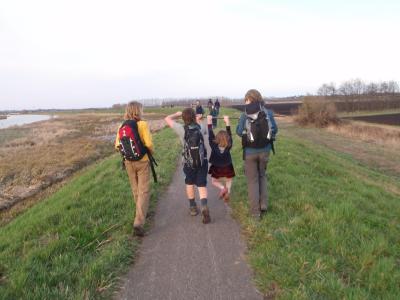 15:15 At the Five Miles pub we grab our last slice of cake at the cake sales (assuming there are any left) for the last 6 miles to the station at Ely. This takes us past Wicken Fen and across the classic flat fenland farm landscape. Once they reach Ely (around 6:30pm) the Scouts and Young Leaders will have managed a healthy 16½ mile hike, which will count towards their Hikes Away badge.

18:30 We return from Ely by train to Cambridge (fare is currently £2.05 - the 18:52 gets in at 19:07) where parents are able to collect their scouts. Some cubs and indeed the occasional beaver have succesfully attempted all 16½ miles but the leaders will need to hear good evidence that this sort of distance has been managed in the past before agreeing to this and we would ask that a parent comes with us, as we won't have enough leaders to be able to take too many failing hikers home if they cannot make it. Note also that the timings are highly dependant on the group's walking speed, so it could be an hour either side of these times.
This is a sponsored hike to raise funds for the group, sponsored by the mile, for Scouts, or per 100 metres for Cubs and Beavers. If a Scout were to get sponsorship that added to a total of £1 a mile, that works out to be £16.50. If a Cub were to manage £0.20p per 100m that would be £20, and Beavers who managed an impressive £0.30p per 100m would raise £8.40.
Sponsorship forms are given out but copies are available to download from this page by clicking here. Permission to hike forms are available online for Scouts, for Cubs and for Beavers too.
Good luck!