28th History
The 28th Cambridge (St John's) Scout Group was started on the 2nd of November 1928. It may have started briefly in 1920, closing in 1921 but the current group has run continuously since 1928. Originally meetings were held in the St John's Parish Hall, which was on the south-eastern corner of Blinco Grove and Baldock Way, a fair way from it's mother church on Hills Road. Past pupils of Morley Memorial school may remember the building as the school dinner hall. It has since been replaced by a terrace of flats.
The 28th Cambridge Scout group are mentioned in the district archives for circa 1934 and circa 1950, and mention the leaders from those dates: Miss F.E.Isaacson, Miss N.L.Cook and Miss B.M.Summers who ran the cubs around 1934 on Monday evenings around 6pm and A. R. McGlashan who ran the cubs on Mondays at 6pm and scouts at 7:15 on Tuesdays around 1950.
We have a plaque up in our office to commemorate Jim Sansom who was Group Chairman of the 28th Cambridge Scout Group for forty years, from 1953 to 1993: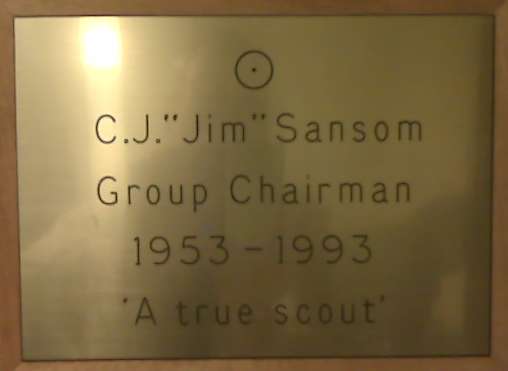 One of the previous cub leaders is commemorated by an embroidered kneeler at St John's church:
| | | |
| --- | --- | --- |
| E.Peachey, Assistant Cub Master. 1936-1953 | | 28th Cambridge (St Johns) Scout Group. Be Prepared |
One of the books in our library is Cub Games and Special Pack Meetings dating from 1941 and it is inscribed F.E.Isaacson, C.M. (Cub Mistress) 28th Cambridge Pack, 142 Blinco Grove, Cambridge.
There is a section for the 28th Cambridge Scout group on Friends Reunited. Add your name to the list and perhaps meet up with old members of your patrol or six.
There are some Cub Scout Standards dating from just one year after cub scouting begin in 1916, making them arond a hundred years old. The bigger of the two has the outline of a wolf, as Cub Scouts were originally known as Wolf Cubs, with wooden discs hanging from it that mark the winning pack, one for each year (although some are now missing). The first holders of the Standard were the 14th Cambridge, in 1917. The other standard is a tally on ribbons to show the marks earned by each six, under the silhouettes of Akela, Baloo and Bagheera.
1st Place

1917 14th Cambridge Wolf Cub Pack
1920 St Columba's (14th)
1921 'A' Pack

1923 14th pack
1924 'C' Pack
1926 14th pack
1927 5th pack
1928 14th pack
1929 8th Harvey Goodwin pack

1932 15th Camb. pack
1933 14th pack
1934 [faded]
1935 53rd St Clements
1945 12th
1949 44th Camb. (Trumpington)
1950 28th

Second place
1936 42nd
1938 2nd pack
1941 2nd pack
1943 29th pack 'again'
1944 27th pack Cherry Hinton Hall
1947 25th

Sixes scoreboard

Blue
**********
****
**
Yellow
*******
******
**********
Red
********
*****
*************
Green
****
*******
[missing]
Our hut was built on the Flamsteed Road site in the early seventies. One of the people who helped lay the very first concrete for the base of the hut was our Group Scout Leader Geoff Oliver. He also was part of the group that helped pull it down again, forty years later, as part of our rebuild in 2014. A page on the rebuild is available here.

| | |
| --- | --- |
| Geoff Oliver, builder and demolisher of the hut 40 years apart, is on the left | The Beavers enjoying the newly refurnished hut |
In 2012 the Queen celebrated her Diamond Jubilee after 60 years on the throne of England. We held a streetparty, and there is a separate page on it available here.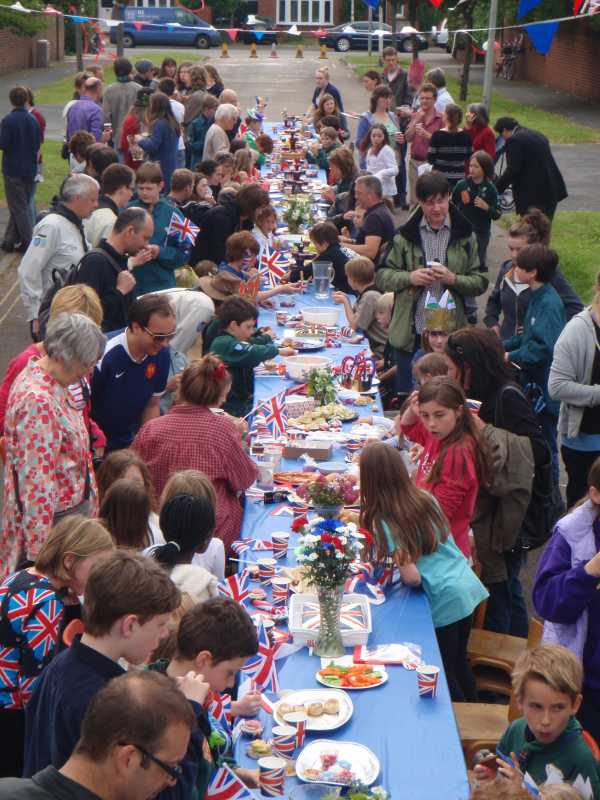 Our Jubilee streetparty table stretched the length of the road
In 2017 the scouthut gained a fleur-de-lys on the roof so it can now be spotted from space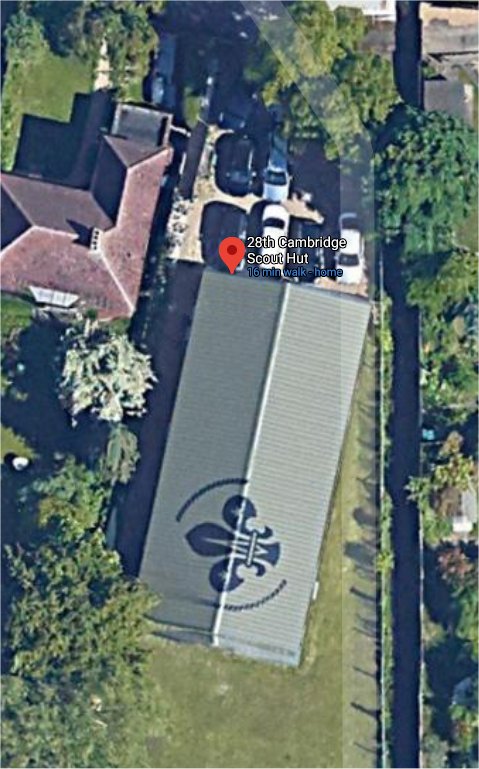 Our hut is definitely on the map
In 2019 we put cub in space to celebrate the anniversary of the first moon landing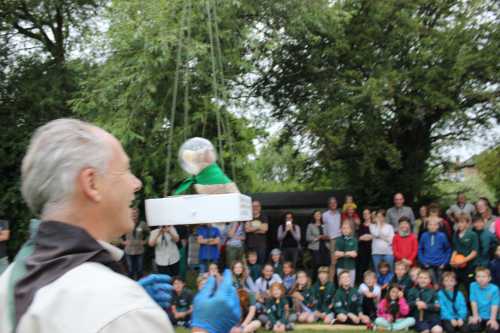 Our cub made it into space and returned to tell the tale