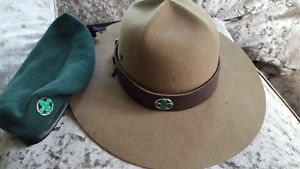 Scout Hat or Beret
National Headgear Census - the Cambridge vote
Scout Hat
B-P wrote'...the broad brimmed khaki hat is a good protection from sun and rain', and in his advice in Part 1 wrote 'If your Patrol does not belong to any uniformed corps it should dress as nearly as possible thus: Flat brimmed hat if possible, or wide awake hat'.
Widely imitated by Scout associations in many countries it was an expensive item. In the very first issue of the Headquarters Gazette in 1909 an article on how to get a uniform as cheaply as possible achieved a sum of 1/10½d (one shilling, ten and a half pence) the hat was an irreducible 1/- (one shilling). Average wages for an agricultural worker were 15/4d a week (fifteen shillings and four pence a week) in 1910 and spare money was scarce. By 1915 the cost of a hat had risen to 2/6.
1947
The Cambridge Scout Section minute book records a discussion initiated by IHQ concerning possible changes to uniforms.
'Hats Considerable discussion took place, suggestions included; two hats, present for parade, beret for camp etc., Afrika Corp hat and berets. On a proposal to abolish the current scout hat: 8 voted in favour 4 for its retention for ceremonial use.
It was then unanimously agreed to recommend that a Tank Corp type beret be adopted.'
1949
In 1949 the new section 'Senior Scouts', the Rover Scouts and Scouters were given permission to wear a beret. The beret was seen as practical, cheaper, came in any colour and was strongly associated with the more adventurous elements of the Allied Forces in the recent War - the black beret of the Royal Armoured Corps , the maroon of the Parachute Regiment and the green of the Commandos.
1954
In 1954 Headquarters ran a census concerning a move to berets for those under 15. Three questions were asked of Courts of Honour (a committee of scouts), Group Committees (a committee of leaders/adults), DC's and CC's.