St George's Day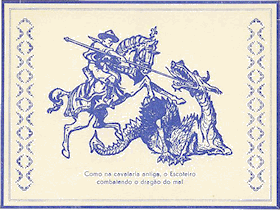 St George was taken as the patron saint of Scouting. Traditionally Scouts would parade on St George's Day, typically at the local church or through the local town followed by a reaffirmation of their scouting promise. These days the focus is more on getting together for some fun and games in the new Spring weather although the reaffirming of your Beaver or Cub promise alongside hundreds of fellow cubs, scouts and beavers is still an important part. Each St. George's Day is also marked by a service in St. George's Chapel in Windsor Castle, which is open to all recipients of the Queen's Scout Award in the previous year.
Each year all the Cubs and Beavers and many of the Scouts in the Cambridge District celebrate St George's Day with a day of fun and sports followed by a St George's Day parade.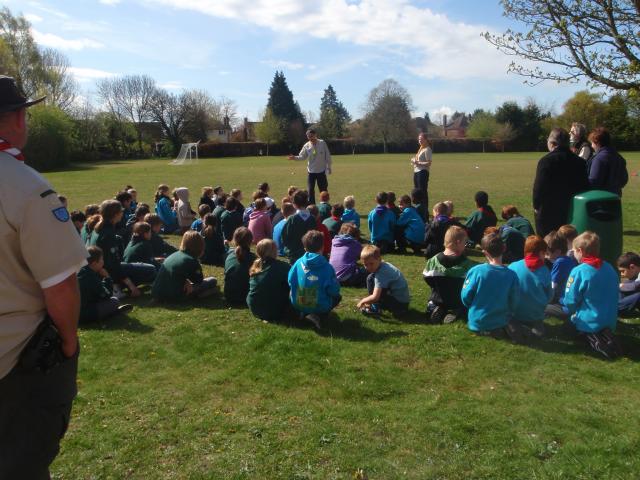 There is a shield for the winning pack and the winning colony, with points being awarded for each sport or activity, typically in heats against cubs or beavers of similar ages. The totals are averaged across each pack or colony and the winners claims the shield until next year.
Standing Jump

Stand on the line, feet together.

Jump as far as you can, landing with your feet together

Three Legged Race

In pairs, tie one ankle to your partner. We used our neckers.

Race to the other end of the course without falling over

Skipping Race

Race down the course, skipping as you go

Ball Throwing

Throw the ball as far as you can.

We marked the furthest throws with cones and let everyone try to beat those markers

Egg and Spoon

Race around a course without dropping the egg (or ball) from your spoon.

We went round a tree too.

Football Dribbling

Dribble the football by kicking it in and out of the zig-zag path through the cones.

Timed, up to the end and back.

Marathon

A long distance race.

We go right round the field once, twice or sometimes three times
In the afternoon we parade our pack 'Colours', our flags, from the venue for the sports, through the neighbouring streets to a special service at a church where we sometimes invest new cubs or award achievements to our leaders, and we all renew our promises.