Geocaching
One of the things to do when out in the great dutdoors is to look for geocaches. These are small hidden boxes of treasure that you are given the grid reference for and have to track them down and discover their hiding place. Inside is a collection of 'treasure', things like a small plastic dinosaur, a thimble, a tiny compass or a bottle opener, and a log book, which you can sign to record your visit in the geocache itself. There may also be one or more 'trackables', which are mentioned in more detail below. You can take one of the treasure items to keep if you put something into the geocache in its place, but you shouldn't keep the trackables. Some people leave calling cards to mark that they have visited.
Once home, or on a smartphone if there is a suitable data signal, you can log your visit to the geocache. Registration is free, although there is a premium account version that ou can pay for. The www.geocaching.com website helps you find new geocaches in the area you are visiting or living, keep a note of which geocaches you have visited, which trackables you have seen and which geocaches and trackables that you have created, if you get that far into it.
Trackables are things that have a tracking code on them and usually have a 'mission' that you might choose to help with. They can be geocoins, like the six we sent off from Cambridge with missions to reach six other Cambridges around the world, a small toy item like a Lego Duplo tigger or a custom made trackable travelbug bought from the geocaching website, geocaching.com for the purpose.
We have set up some geocaches with goodies in them donated by the cubs. One is at our scout hut and is GC72WA3 - 28th Cambridge Scout Hut. Another is nearby at Coleridge Recreation Ground where there is a paddling pool, kids playground, tennis courts and a football field is GC76VCR - 28th Cambridge Cubs at Recreation. Use the the 'GC' code (or click on either of the links above) to find it on geocaching.com or a suitable geocaching app like c:geo on Android or geocaching on Android or iOS.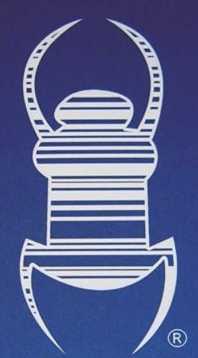 We have made our Scout Hut a trackable item. See if you can find it, visible from outside the fence, in one of the windows of the hut: https://coord.info/TB7JVBH
We bought six geocoins from the online scout shop for a geocaching expedition on one of our camps: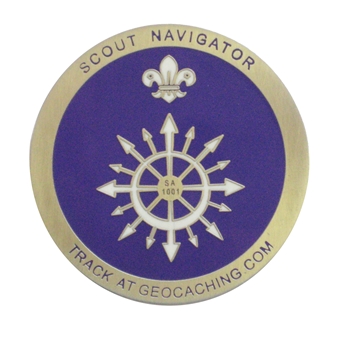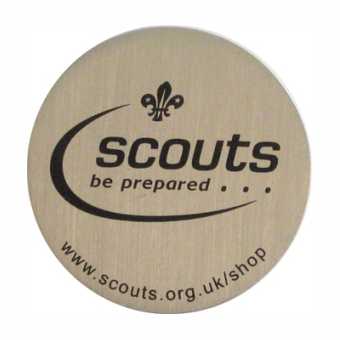 We dispatched six geocoins, pictured above, to various places called Cambridge around the world, and by clicking on the TB541xx tag against each one you can see how far they have got on their quest to reach their chosen other Cambridge:
Bagheera