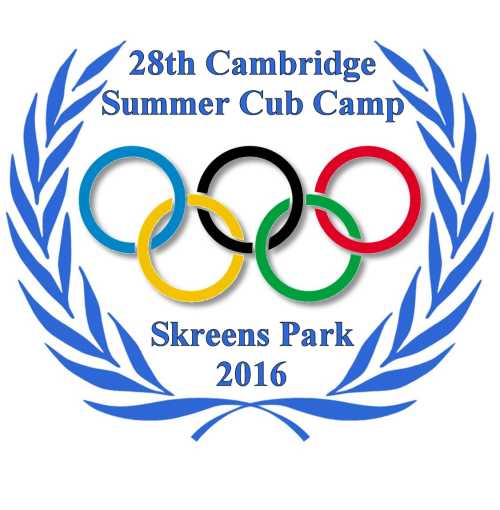 Skreens Park
Summer Camp 2016
The Cubs went to the Skreens Park Scout Camp near Chelmsford, for their summer camp at the end of July. It is a big campsite with open grassland surrounded by woods and equiped with an adventure course, pedal-karting, archery and a bouldering wall. It also has a lake where we were able to try our hand at kayaking and raft building.
As 2016 was the year of the Rio Olympics we had our own Cubs Olympics, covering some of the able bodied and paralympics events, and some that we made up ourselves. We worked on our .. and our disability awareness badge.
Our t-shirts this year were in the three colours from the Olympic Rings that also feature on the Brazil flag of Green, Blue and Yellow, one for each tent team.
| | |
| --- | --- |
| We had an opening ceremony with a parade of the athletes | We built a podium for gold, silver and bronze |
We went on a geocaching hike around the village of Roxwell and visited a series of sixteen geocaches left, we believe, by the 1st Roxwell Scout and Guide Group, named 1st Roxwell - Mill, 2nd Roxwell - Footbridge and so on up to 16th Roxwell - Bus. We signed the logs in each of the ones we found, which was well over half of them, and we left some Scouting Navigator Geocoins in six of them, each with a mission to try to reach a different Cambridge around the world, which can be tracked on www.geocaching.com:
We went rafting too, to use our pioneering skills tying square lashings to build our rafts and then putting to the water.

We lashied poles around barrels ...

and gingerly launched into the water

It all started out well ...

Brett seemed to be heavier than all the cubs put together

Under Akela's watchful eye barrels started to pop out ...

but the cubs clung on

Leaders ran rescue missions ...

to drag cubs to the shore

The cubs decided that the knots that Bagheera tied were the ones that came undone and that he was therefore
the cause of the rafts failing. They made up a song on the spot: Baggy is Rubbish, served via YouTube
None of it would have been possible without the fabulous help of the ladies (Justine and Maddie with Jessica and Kate's help) who rotated through the kitchen over the camp to keep everyone well fed and watered (including endless cups of leaders' tea)