'American Indians'
Summer Camp 2010
The Cubs summer camp was at Skreens Park, Essex from at the end of July. It is an open grassy campsite with few other groups, which used to be the grounds of a stately home. Our four new tents, courtesy of a grant from Cambridge City Council, looked great all lined up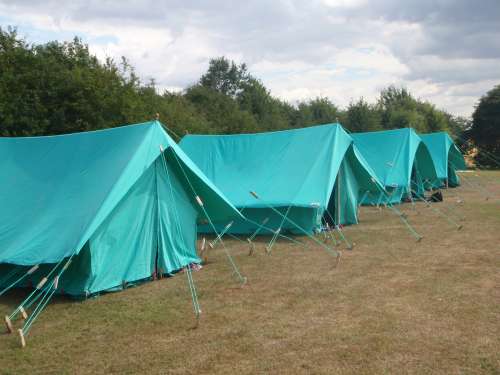 Our brand new tents
We had as a theme 'American Indians' and we all had feathers in our headresses. Helpful tasks, such as washing up, earned more feathers and everyone had the chance to nominate each other for a feather at our nightly pow-wows.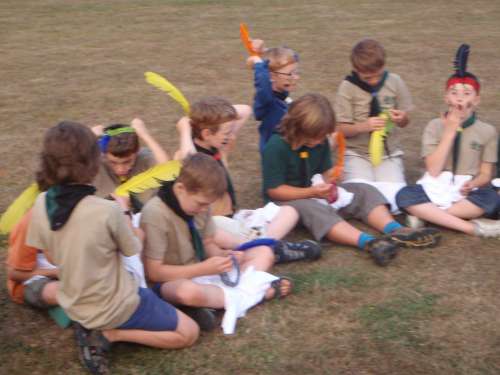 We all had feathers at pow-wow
We did everything from bouldering (climbing sideways rather than upwards), air rifle shooting, canoeing, archery and rafting along with all the more traditional camp activities of fire lighting, outdoor cooking and sports.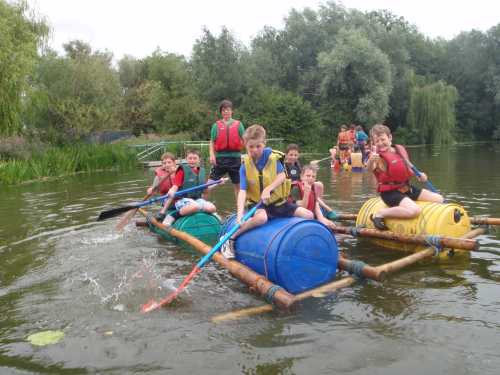 Build it, paddle it, splash them all
We also made some dream catchers and made a visit to the Top Secret Nuclear Bunker at Kelvedon Hatch where we also did some caving.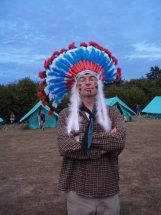 Heap Big Chief Akela