Leslie Sell Activity Centre, Bromham
Summer Camp 2015
The Cubs went to the Leslie Sell Activity Centre in Bromham, near Bedford, for their summer camp at the end of July. It is a big campsite with mature woods and equiped with an adventure course, pedal-karting, archery and shooting ranges and a bouldering wall. It is near to the river where we were able to try our hand at kayaking.
Being 1000 years after the Viking king Canute decided in 1015 that piecemeal raids into Britain were not enough and that he should invade with his army, the theme was Vikings, with all of the outfits, swords, marauding and longships thrown in. As well as making shields and our longship, and hiking (for the hikes away badge) and kayaking (for the time on the water badge) and building a rope bridge (for the pioneer badge) we got our campers badge by preparing, cooking and serving food, and of course living, under canvas.
We started by making some armour for ourselves - a Viking longsword and a Viking shield each and we handed out a horned helmet (despite the fact academics now try to tell us they never had horns) and this year's t-shirt which was in blue:

Hardboard circles with some blue rope for a handle
We painted them (the grass & ourselves) multi colours

We built a ceremonial Longship around the flagpole
and hung all our shields on it
Having made our weaponry we had to undergo some training to make sure we knew how to handle our fearsome gifts from the Valhalla gods:
| | |
| --- | --- |
| A fiercesome band of Vikings | Swords drawn, shields ready for battle |
| Watchout - here they come! | Prepare to be marauded! |
We did our fair share of marauding around the campsite but a fair bit of the quiet time in camp was spent playing the game of Kubbs which has simple rules but complex game play. You start by laying out five blocks called Kubbs at each end of a rectangular pitch and the slightly larger King in the middle and then you take turns to throw a stick (also known as a rib) underarm to knock over your opponents Kubbs. They then throw these back into your half of the pitch and have to knock them over before they can topple your original five Kubbs. When you've knocked over all of their Kubbs you can knock over their King. Just like in the game of Pool, if you knock over the King before you're finished you are out!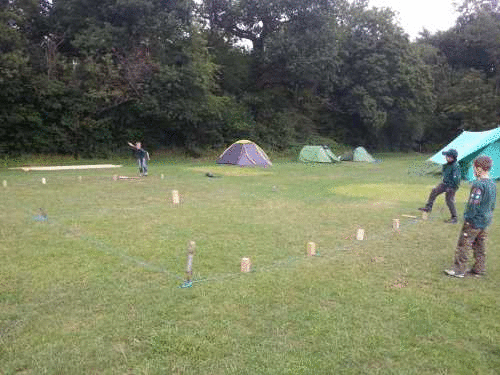 We would have gone on a raiding party to the monasteries but there weren't any left so we went to the village of Stevington to see their 600+ year old Cross and Holy Well built into the wall of the churchyard and then visited the post mill on our hike back to our camp.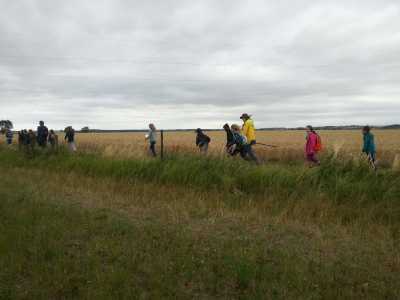 We all climbed up on the seats around the cross
It dates from the fourteenth century

We balanced on the very steep stairs
'The finest postmill in England' wasn't open for a tour
We made fires, despite the sometimes rainy weather (our new Coleman shelters proved to be great for getting out of the rain) and made some firm favourites: garlic bread with way too much garlic in it, pizzalitos and angel delight cheese cake.

For some unknown reason the predominantly girls' table
was much more organised than either of the others

Eating Angel Delight cheesecake didn't have to be messy
but I'm told it tastes better like that
Akela taught all the cubs how to work with sharp knives and axes safely in our camp's seating area, which by night became a haven for tired leaders to unwind under the full moon whilst the fire slowly smothered us all in smoke from its fire altar.

Rapt attention as Akela demonstrates how he cut himself
Quite badly, apparently, but he didn't repeat that bit

Leaders, young leaders and the bigger young people
g ather to munch crisps under the full moon
We also had a go at pedal go-karts around the track in the woods. We each had a go and then we split into five teams of three with a Le Mans start and then three laps before pulling into the pits to swap drivers. A fair amount of pulling cubs out of the bushes was needed when too much concentration went on pedalling and not enough on steering!
| | |
| --- | --- |
| Racing to catch the cub in front after a Le Mans start | Akela pedalling desperately but still being caught by Baloo! |
On our last day we had a go at the onsite man-made caves. We all had helmets but only a few of us had torches. It was very dark and a little scary but even our most frightened cub (very, very) overcame their fears and went through the dark and muddy tunnels
| | |
| --- | --- |
| Going in one tunnel! | and coming out the other! |
We managed a myriad of other adventurous activities, like archery, climbing on the bouldering wall and canoeing ..
| | |
| --- | --- |
| We made a bridge over a (non existant) river of crocodiles | Archery was very soggy but right on target |
| Every type of canoe and kayak | Everyone in at the end! |
| Our campsite was surrounded by mature trees | Camp cooks keeping the tea flowing! |
but none of it would have been possible without the fabulous help of the ladies (Justine, Jessica, Kate, Denise and Catherine plus our young leaders Maddie and Grace) who rotated through the kitchen over the camp to keep everyone well fed and watered (including endless cups of leaders' tea)