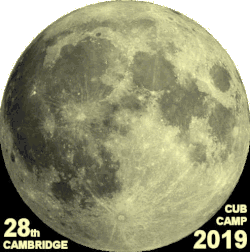 Glow in the dark tshirt logo of the Moon
Space at Bromham
Summer Camp 2019
The Cubs went to the Leslie Sell Activity Centre in Bromham, near Bedford, for their summer camp at the end of July. It is a big campsite with mature woods and equiped with an adventure course, man-made caving, pedal-karting, archery and shooting ranges and a bouldering wall.
It being fifty years since two scouts named Neil and Buzz walked on the Moon on the 20th of July 1969, the main theme was Space. We made a space station out of our tents connected with crawl tubes and an airlock, we launched rockets into space, or across the camp site at least, and our pedal karts were of course Moon Rovers. The logo for our T-Shirts featured a glow in the dark moon which showed up great in our tents and in the caving system.

Our campsite on the edge of the woods ...


.. and our space station


Bush Tucker: Roll a dice to decide ...

.. what hideous food you must eat

How bad can it be ..

.. pretty bad

No, it's worse ...

.. but it's finished

Cup challenges ...

.. make a pyramid

.. hands on your head ..

.. when you're finsihed

Bounce a ping-pong ball ...

.. into all the cups

Blow up a balloon ...

.. and puff the cups off

Relay race ..

.. over the head

And on-your-head relay ...

.. round the tree

Waiting for the zipwire

And then off we zipped!

Zipping down the zipwire

We went on a hike ...

.. but got lost in the jungle!

So we had to make shelters ...

.. some where quite fancy!

Some were simple but effective a-frames ...

.. and some were home-made hammocks

A groundsheet was a good idea

.. the leaders had to build one too

Some it was hard to inspect

.. others were much more ready for inspection!

We cooked some fish the leaders 'caught' ..

.. and we set a bacon trap!

We visited Chiltern Open Air Museum ...

.. and had great fun on their playground!

We went caving ...

.. without lights!

We built a ropebridge ...

.. across a shark infested campsite!

Two best bits: Lost in the Jungle shelter building ...

.. and the Jungle Cinema on the last night!
None of it would have been possible without the fabulous help of the the camp volunteers (Sharon, Jessica, Meghan, Brett, Ian, and some cub Dads) who rotated through the kitchen over the camp to keep everyone well fed and watered (including endless cups of leaders' tea)